Chapter 5 The making of a market: the case for carbon dioxide emissions trading
5.
1 Why create a market for pollution?
At first glance, people concerned about the environment might greet the idea to use markets to protect nature with a degree of scepticism. After all, was it not markets and the economic system that created our environmental woes, polluting waterways, the atmosphere, driving deforestation and overexploitation of the oceans and species decline in the first place?Somewhat understandably then, when they first hear economists speaking of 'unleashing' market forces to cut carbon emissions, it can illicit conflicting emotions. How can these economic forces, which were so destructive, be transformed into environmental champions?To understand how the forces of the economy play out on the environment and the relatively new role of carbon markets, it is useful to go back to first principles and define what exactly we mean by terms as 'the economy' and 'the market.'Much more than the acts of buying and selling, markets are the interrelated systems of human interaction by which we organize our lives and the things we value. Together, these systems constitute the economy.
Stemming from the ancient Greek 'oikos' and 'nomos' literally meaning 'house' and 'law' respectively, eco-nomics at its most elemental, is the study of the forces that govern the human world.Today, we can say modern economics is concerned with the nature and governance of the social systems that make up our world. Having placed economics in this context we can more clearly see that far from being exclusively about how money is made, economics can be more accurately described as being concerned with what humans value and how society organizes and apportions this value given limited time, money and other resources.Amartya Sen for example, has focused his research on the capabilities and freedoms of individuals to live a life they have reason to value, rather than narrowly on the bundles of goods and services they consume (Sen, 1999). In the climate change context, we can think of 'a stable climate' as one of the key sources of value for individuals and society alongside quality of life factors such as access to education, healthcare, a rewarding job, time with the family – and money which, of course, has a significant bearing on the opportunities we have.This means in addition to the economics of the various commodities, the things we buy and sell, interest rates, housing, unemployment and the measurement of gross domestic product, there is also the economics of environment, happiness and elements of behaviour extending to encapsulate this broader sense value.Saying this, in order to compare different options to support informed decision making – say between a pristine river catchment and increased agricultural production and employment – economics does attempt to quantify this broader sense of value in monetary terms and, for some, this can raise ethical objections.
For example, Steven Kelman (1981) asks the question: Is it ethical to put a price on the environment and to use incentive programs to solve environmental problems ? His argument is that by placing a monetary value on the environment we are undermining its intrinsic value and transforming it from being a sanctified preserve to a marketable commodity. It is argued that the use of economic incentives changes our attitudes towards the environment and cheapens traditional values by legitimising polluting activities by allowing those who can afford it to continue polluting while the poor are disadvantaged. Kelman argues regulatory controls are more desirable as they send a powerful moral signal that the polluting activity is socially wrong and through them the state can better handle the equity dimensions around the use of the environment (Kelman, 1981).Economist Nicholas Stern states 'if we do not act, the overall costs and risks of climate change will be equivalent to losing at least 5% of global GDP each year, now and forever (Stern, 2007).
If a wider range of risks and impacts are taken into account, the estimates of damage could rise to 20% of GDP or more.' 'In contrast the costs of action – reducing greenhouse gas emissions to avoid the worst impacts of climate change – can be limited to around 1% of global GDP each year.' Stern argues how the use of emission trading will allow these emissions reductions to occur in the most cost-effective way, potentially solving problems such as deforestation and providing much needed financial support to developing countries for projects to increase (clean) energy production and offer more sustainable income sources than (often illegal) deforestation.
It is how this broad concept of value is translated into everyday decisions that is the focus of economics, and with respects to the subject of this book – emissions trading – how the value we place on preventing catastrophic climate change is translated into low-carbon lifestyles, technologies and infrastructure.Even with this broader appreciation for markets and economics it is easy to see that even though many people are worried about the risk of climate change and value a stable climate – individuals, companies and governments are still not taking action to reduce harmful emissions. What has gone wrong?
5.2 Market failure
When society – whether at a local, national, regional or global community levelvalues something more than the sum of the amount that the individual or company value it, economists call this an externality (i.e. the value is external to the decisions made by the individual agent). These can be positive, say in the case of education or research and development, or negative such as in the case of greenhouse gas pollution.
In the case of the positive externality, society demands more of the good or service in question that will be provided naturally by market interactions. However, in the case of the negative externality society demands less of the goods or services produced (in our case high-carbon energy form fossil fuels, or products from land which has been subject to tropical deforestation) than what will be naturally be provided by the market.These externalities can therefore be described as leading to market failure.
Failure to adequately protect the environment, failure to support education or R&D, and failure to supply adequate health care – all being good examples of (bad) market failures.Diagrammatically the negative externality associated with climate change and fossil fuel energy production is shown in Figure 5.1 by the deviation of the marginal private cost curve (MPC) from the marginal social cost curve (MSC). However, energy production also has a positive externality associated with it due to the large public benefit of having continuous, uninterrupted energy supplies that requires producers to maintain a surplus capacity above what they would as normal profit maximizers. Thus in addition, a marginal social benefit curve (MSB) lies above the marginal private benefit curve (MPB) of energy production (Helm, 2007)
Figure 5.
1 The Externalities of Energy Production from Fossil Fuels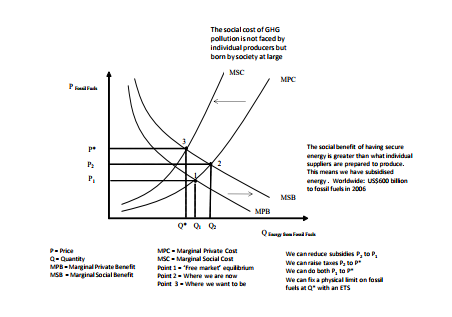 This theory of externalities helps explain the evolution of energy provision. Historically, governments have subsidized energy production to ensure that a stable supply is guaranteed. This has shifted the 'free market' equilibrium from 1 to 2 in the above figure. For example, the Global Subsidies Initiative has estimated that the size of global energy for fossil fuels could be in the order of USD $600 billion per annum in 2006 and subsidies in the power sector estimated to exceed USD $200 billion per annum in 2003 (Doornbosch and Knight, 2008).Now that society has become aware of the climate change problem associated with the burning of fossil fuels (the MSC moves outwards with time as our understanding of the higher the costs of climate change increases) the socially desirable level of production moves from Q2 to Q*.
Note that moving to this point requires imposing a higher price on fossil fuels and/or lowering the existing subsidies used in the first place to ensure stable and secure energy supply (Myres and Kent, 2001).Note that the socially desirable, or optimal, level of pollution is positive. This means that society is prepared, in this case, to tolerate some pollution in exchange for the benefits of the energy provided. However, this need not be the case. The optimal level of pollution would be zero when the MSC curve was above all points on the MSB curve. This would become the case in the event that costs of climate change become larger and more immediate than currently understood.
5.3 Market Failure, Policy Choice and Socio-economic Organization
How society chooses to deal with market failures shapes, not just the environmental quality, level of innovation or life expectancy in a country, but because of the pervasiveness of the market as broadly defined as our mode of social and economic organization, the politics of a country. It is for this reason – for good or bad – that regulatory approaches can become closely tied in with political ideology. If we believe Nicholas Stern's assertion that climate change represents the biggest market failure in human history , we must also be mindful of the changes to socio-economic organization climate change has the potential to precipitate through new regulatory environments.Until the late 1950s opinion was divided as to how to most effectively deal with the regulation of externalities, such as industrial pollution. At the time, in the post World War Two environment, the dominant view of policy makers was that pollution should be controlled by a series of legal regulations such as the special zoning of polluting activities, quantitative limits on the physical volumes able to be disposed into rivers and the atmosphere, technology standards and so on. This involved public sector working closely with polluters, to establish how much pollution could be emitted by individual firms and the industry as a whole, setting standards for technologies, and setting up monitoring and enforcement agencies.
An alternative view was put forward by the economists of the time (see Baumol, 1972), influenced predominantly by Alfred Marshall's neoclassical programme emanating from Cambridge University, particularly the contributions to the standard welfare approach to economics of Arthur Pigou (1932). This programme of research and teaching suggested that a better way of regulation would be to impose a per unit tax on the polluting activity.Economists who subscribed to this approach argued that the outcomes of the traditional regulatory or what they termed a 'command-and-control' approach, could be achieved at a lower cost to society and with a smaller government bureaucracy through a tax. Taxes, they argued would also provide incentives to continuously improve environmental performance as firms were always looking to minimize costs if they could, whereas there was no reason for a firm to exceed the pollution abatement beyond what was expected by the standard.This tax could be set at the marginal external damage (the difference between the MPC and MSC curves in Figure 5.1) caused by the pollution at the optimal (Q*) level of pollution.
This would therefore cause polluters to internalize the externality by imposing extra costs on production (for example putting a price on CO2 emissions and reducing the incentive to generate energy from fossil fuels or develop land important for carbon sequestration). Faced with higher costs, the polluting firm produces less (Q1 ? Q*).Officials in the public service, who perhaps saw these proposals as a direct threat to their jobs (and they were: economists also generally modelled the public service as trying to maximising their budgets, rather than social welfare, in the same way the private firm seeks to maximize profits), responded that the information burden to achieve the optimal tax rate for a given pollution level was unrealistic and would require just as many resources to do properly as using the traditional regulatory command and control approach.The result of this debate was an acrimonious standoff, with market-based mechanisms such as taxes remaining unpopular. This situation persisted until Ronald Coase (1960), from the University of Chicago, launched an attack on the Standard Welfare Economics of Pigou and reframed pollution control as a problem of poorly defined property rights. In arguing his case, Coase applied basic logic to synthetic or imaginary examples of people and firms to show that if factors of production are thought of as rights, it becomes easier to understand that the right to do something that has a harmful effect (such as the creation of smoke, noise, smell, etc.) is also a factor of production…. The cost of exercising a right (of using a factor of production) is always the loss that is suffered elsewhere in consequence of the exercise of that right – the inability to cross land, to park a car, to build a house, to enjoy a view, to have peace and quiet or to breathe clean air.
Government regulation of the environment had in many cases already created a set of defacto property rights by controlling how much and where pollution was allowed to occur. Therefore, it was already established that once a certain standard of water or air quality was breached the offending individuals or firms (or the government) could be accountable to the legal system that would enforce the pollution control with fines or injunctions.Coase took a step further to argue that this regulatory system could be improved by making these rights more transparent (by allocating pollution rights to individual firms) and transferable (allowing them to trade in these rights). In this model the role of government involved setting the appropriate standard for protection, allocating the initial rights and then stepping back to let the market decide over time, where and how the pollution rights would be used between different firms.
Critically, Coase showed that this would allow property rights to flow to their highest-value use.For example, a new firm that wants to enter the market to produce the commodity that generates the pollution needs to obtain the required 'pollution rights' in order for it to operate. Assuming the market for emissions rights is already fully allocated, the new entrant will need to buy these rights off an existing firm. To do this it must offer the existing firm a price high enough to entice it to sell its pollution rights. The vendor of pollution rights must reduce its production, increase efficiency or leave the market entirely.
In order to offer a price high enough to induce a sale, the new entrant must be more profitable than the existing firm. The end result, in theory, is that across the regulated sector emissions rights will go to those who are able to pay the most for them. Therefore only the highest-value users will continue operating.While this is a very powerful result, we shall see in the following chapters it also raises equity concerns around the ability to pay for rights, especially if pollution rights are being traded across countries with vastly different economic means.Furthermore, in addition to encouraging pollution to move towards the highest value (albeit polluting) activities emissions trading also promotes 'least cost' emissions control.
By this we mean that the trading of emissions rights encourages the firms, countries or sectors with the lowest costs of abatement to do most of the pollution control. In theory, the firms, countries or sectors with higher abatement costs utilize the emissions market to buy this cheaper abatement up until the point where the marginal costs of abatement are equal across all firms, sectors and countries.A good example of this principle at work can be found in the operation of the Clean Development mechanism of the Kyoto Protocol. This allows cheap emissions credits to be bought from projects in countries such as China and Brazil and imported to countries where the costs of abatement are higher, such as the European Union and Japan. To see how this works, consider Figure 5.2 below.
Figure 5.
2 The Economic Benefits of Emissions Trading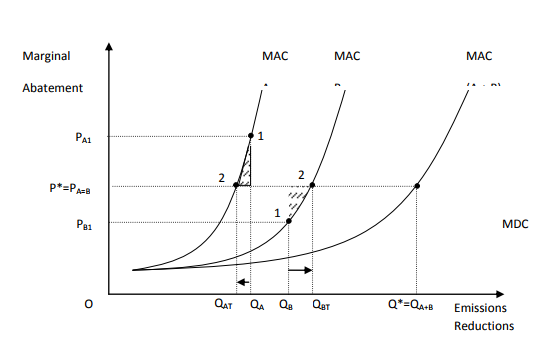 The costs of abatement at each additional unit of pollution control in each firm, sector or country 'A' (from now denoted as firm A) is described by the MACA curve and the same for firm B. As the MACB curve lies beneath the MACA curve the costs of abatement are lower for firm B. Suppose the combined total of emissions reductions required are described by Q* which is the sum of the allowed emissions of each firm set by the regulator (the emissions cap).Simply allocating pollution rights by regulating emissions at Q* with no trading, would result in each firm (country) abating pollution at point 1 on their respective MAC curves (this would be their level of pollution at the start of the scheme minus some adjustment to reduce emissions to a required standard). Observe it costs more for firm A to control pollution at this point – with each additional unit of abatement costing PA1 – whereas firm B abates much more at a lower price of PB1.To 'unleash the power of markets,' or move towards the Coasian solution, let us now consider the introduction of emissions trading.
Firm B realizes that it can carry out extra abatement beyond what is strictly required by it at a cheaper than it costs firm A to do abatement itself. It pays for firm A to increase its emissions (decrease abatement) from QA to QAT and buy permits from firm B which increases its abatement from QB to QBT. Q* remains the same.Firm A will decrease its emissions abatement from QB to QBT up until the point that it costs the same to buy rights off Firm B or do the abatement itself. This will occur when the marginal abatement costs for firms A and B are equalized at P*.
The benefit to society is that emissions reductions are carried out in a least cost manner, by the most efficient polluter. Graphically, this economic benefit to society is represented by the shaded segments of the figure. At QBT and QAT neither firm has any incentive to trade and the model is in equilibrium. It should be noted that this result requires rational, profit maximising decision-making by firms (countries) and perfect information and. a well functioning market. For simplicity, the model has been restricted to two agents, however, the same logic can be applied to a model with many agents.
Indeed the potential gains from emissions trading increases, the more firms and countries are involved.Next Page – Ch 5: Emissions Trading in ContextPrevious Page – Ch 4: The Shift Towards Energy Efficient Lighting in Germany