7.1 Introduction
Depending on the measure taken, Russia is either the world's third or fourth largest polluter of greenhouse gasses (GHG), emitting around 2,000 MtCO2-e in 2008, or around 5% of global annual emissions. This compares with China and the United States, which contribute around 20% of annual emissions each, and puts Russia on a similar par as India and Japan. Germany follows next, with around 2.5% of annual global emissions. Clearly, Russia is a key player in the global effort to reduce the risk of dangerous climate change, a position all the more striking given a fall in Russian emissions of around 51% between 1990 and 2008.Over this period energy emissions fell 32% with the collapse of economic output in the 1990s associated with the dissolution of the Soviet Union and subsequent attempt to transition to a market economy.
With 22% of the world's forested area, Russia is also home to the world's largest forest estate. Accordingly, land use and land use change feature strongly in Russia's emissions profile. Between 1990 and 2008, emissions from this category decreased by 559% moving from being a source to a net sink. Furthermore, with around 36% of electricity generation sourced from zero carbon sources, such as hydroelectricity and nuclear power, Russia has achieved an unparalleled decarbonisation of its economy over the last two decades, albeit for reasons far removed from climate policy.Russia's 'achievement', however, has been underplayed on the international stage for several reasons.
Most notably, the Russian case seems problematic to the logic of ecological modernisation – that cutting emissions is compatible economic growth (see for example Stern, 2006). Russia's radical decarbonisation came about as a result of an economic collapse which left millions unemployed and caused a massive deterioration in living standards. In practice, the so-called 'shock therapy' involved with the implementation of market reforms in the early 1990s exposed the centrally-planned public system to what has been called a chaotic process of economic 'disorganisation'. As the Soviet demand and supply networks broke down, a new predatory business oligarchy rose in its place.
This period was characterised by widespread corruption and asset stripping as formerly state-run industry was privatised. Eventually, Vladimir Putin (after becoming President in 2000) used the security apparatus to reassert order based around the power of the state and today Russian officials estimate that around 60% of GDP is produced by state-controlled companies (Clover, 2010). This stabilisation resulted in a return to economic growth but not a commensurate increase in emissions, suggesting the Russian economy had 'decoupled' from GHG emissions.A second potential reason for the lack of acclaim for Russia's GHG reduction achievements can be seen by considering Russia in the context of what has been called the 'Veil of the Kyoto' – the GHG accounting rules of the Kyoto Protocol (Howarth and Foxall, 2010). While Russia is a major exporter of oil and gas (the tax revenues from which have underpinned the Russian recovery), the vast bulk of emissions associated with these exports are attributed to the countries in which they are burnt, mainly in Europe and China. This means that Russia's CO2 profile remains contained despite a dominance of fossil fuels in the economy.
Finally, and strangely from a climate policy perspective, the Kremlin has not highlighted its climate 'achievements' as vigorously as one might expect, instead emphasising the possibility of economic growth (and emissions) surging past the Soviet high-water mark in international discussions. For instance, at the 2009 climate talks in Copenhagen attention focused on Russia's commitment to a 15-25% reduction on 1990 GHG emissions by 2020, a commitment widely criticised as inadequate by the environmental community. Such attention overlooked the fact that Russian emissions are already below these levels and that such a target would be considered ambitious in most other industrialised nations.These contradictions and lack of a positive ecological modernisation narrative perhaps go some way to explain why the case of Russia seems to have been underplayed in the academic and popular literature. When Russia is talked about (see for example, Afionis and Chatzopoulos, 2010; Tipton 2008; Henry and Sundstrom, 2007; Korppoo and Ikeda, 2006; Buchner and Dall'Olio, 2005; Golub and Strukova, 2004; and Müller, 2004), it is generally in the context of its role in the UNFCCC negotiations, particularly the ratification process of the Kyoto Protocol, or as part of macroeconomic modelling studies of emissions investigating relationships between carbon prices, emissions and GDP.
Given the importance of political factors in shaping the Russian economic system, where the rule of law does not support a 'market system' in any western sense of the term, it seems that case study explorations of the historical, institutional and political context offer a sound basis for developing an understanding Russian climate policy and GHG outcomes.In this chapter we set out to develop such a case study of Russia informed by strategic policy network theory where relationships between actors in the system evolve as a function of 'resource' interdependencies. These resources can be either physical or political but in either case to be relevant they must be able to be controlled, desired and to be transferable between those in the network (for example, EU recognition of Russian 'market economy status' as a step towards ascension to the World Trade Organisation for support of the Kyoto Protocol). In this context each member wants something from one or more of the other network members and is prepared to exchange something of their own to get it.For climate change policy, Compston (2009) has distinguished ten typical tradable resources, such as legislative amendments, formal approval, access to information, recourse to the courts, investment, political support, patronage and cash. While some elements of this nomenclature are more relevant than others for Russia, it serves as a useful framing logic to understand our case and hopefully allows some comparison of our results with similar studies (Compston and Bailey, 2008; forthcoming). This work supports a research agenda identified by Paul Robbins (2003) for a "political ecology of the state", in this case assessing the multiple framings of climate change at the level of a nation-state in pursuit of the 'national interest'.This chapter is set out as follows.
We begin by describing the structure of greenhouse gas emissions in Russia during the Yeltsin 'decarbonisation years' between 1990 and 1998 and then the 'recovery years' of 1999 to 2008 under President Putin. Noting the importance of land use and land use change for Russian emissions and global climate governance, this section highlights one of the key economic and political questions facing Russia: that is, whether the state revenues from levies on oil and gas exports are embedding the fossil fuel sector ever deeper into Russia's institutional matrix of business and politics, or, alternatively, whether these revenues are supporting a managed transition away from an over reliance on extractive industries.While this is a difficult issue to assess, it is one which will significantly determine the sustainability of Russia's economic recovery as well as influencing the power-politics of the 2012 Presidential elections. Next, we describe the role of climate change in post-Soviet politics, drawing attention to the nature of the competing political factions within the Kremlin and layers of governance which are likely to have a significant influence on policy development and implementation in Russia. This framing is useful as it helps identify the lines of power which can drive policies to reduce emissions, following either the interests of the siloviki (military-security agencies), technocrats (for example, Gazprom) or more market oriented 'liberal' forces.In the final section, we identify four broadly themed areas of reform to promote low carbon development, which aim to support Russia's strategic domestic and international interests. These are: economic modernisation, innovation and energy efficiency; emissions trading and the Kyoto Protocol (with a special focus on the nexus with World Trade Organisation membership); the development of gas exports to Europe and the potential to support a Chinese 'dash-for-gas'; and, public and official awareness of climate change issues in Russia and the potential to securitize the climate agenda to align with the interests of the siloviki.
Due to space constraints, this chapter does not attempt to be comprehensive in its coverage of all the climate relevant issues facing Russia. More could be written on the important issue of the management of the vast Russian forest estate and the geo-physical impacts of a changing landscape for global climate systems. We have also not delved too deeply into the potential for new investment in nuclear and renewable energy systems, the expansion of which are stated priorities for the President (both energy systems have ambitious targets articulated for them). Nevertheless, this chapter hopes to have captured the main dimensions of GHG mitigation and climate change policies in Russia along with the distillation of a program of measures to support the pursuit of Russia's economic and political priorities.
7.2 The structure of Russian greenhouse gas emissions
Over the past 20 years, Russia has undergone a profound transformation from a planned to a more market-oriented economy. This transition induced a painful social and technological transition and a radical decoupling of the economy from carbon intensive growth towards less polluting activities — at least from a Kyoto accounting perspective (Figure 7.
1). The economic and social cost of this transition has been high. Between 1989 and 2002, Russia's population fell from 147, 022 million people to 145, 164 million. At the same time, Gross Domestic Product (GDP) contracted by 39%, unemployment increased by 39% and a staggering 23.8% of the population dropped below the $2 a day poverty line between 1990 and 1999 (World Bank, 2004).It is generally accepted that Russia's output collapse (and the accompanying fall in emissions) resulted from the disruption of the planned economy caused by the disintegration of the highly centralised Soviet system (Blanchard and Kremer, 1997; Djankov and Murrell, 2002; Eilat, Sachs and Zinnes, 2001; and Brown and Earle, 2006). Government planers in the state bureaucracy set the production, prices and delivery timetable for goods and industrial activities which were dispersed and specialised across the different republics.
A nonmonetary inter-enterprise transaction system supported this production structure (Commander and Mumssen, 1998). Virtually every component of this system was owned and controlled by the state and private sector activities were left to a significant informal sector (i.e., the black market).During the Soviet period, some western analysts suggested that the Soviet environmental policy process could be thought of in terms of a 'state corporatist' model, which had evolved since Stalin's time.
Just as pluralist systems in market democracies take into account different groups in the policy making process, under a state corporatist model a plurality of groups impact on decisions, however the different branches of the state have a much greater role, as opposed to individuals, private firms and NGOs. Much like in a liberal capitalist system, where ideas spread through the media and market, under a state corporatist model the dissemination of ideas and solutions to problems must flow through the party-state structure. Analogous to a market-oriented system, it is not the system per se but the quality of governance underpinning it which determines whether the environment is valued and protected or not8 .According to the neoclassical economic logic which provided theoretical support for the transition to a market economy, the central planning system was held to be operating incredibly inefficiently. Under market reforms, price controls were relaxed, state corporations privatised, a tax system introduced, fiscal and monetary policy tightened and flexibility introduced to the exchange rate. According to the theory, these reforms should have led to a more efficient allocation of resources and the expansion, not the contraction of output.
In hindsight the neoclassical view proved to be naive as Russian market institutions were far too immature to support western-style market relationships.It was often the case that large former public firms had or knew of only one supplier of key components of the production process and only had one or two buyers of their output. Once the central planner withdrew and breaks in this supply chain occurred, trade between Russia and the former Soviet Republics collapsed. Instead of production, to earn income the new owners begun to sell off (cannibalise) their machines, firms began to lose crucial workers, and their capacity to adapt to the changing environment. This process of disorganisation facilitated a new (often armed) elite oligarchy to rise in the place of the central planner and resulted in a severe weakening of predictability and application of the rule of the law (Blanchard et al., 1997).
The Organisation for Economic Cooperation and Development (OECD, 1999) emphasises a more positive narrative instead focusing attention on the decoupling of GDP and pollution. It has been observed that the structure of planned economies tends to differ from market economies in the former's emphasis of heavy over light industry, and industry over services (for a review see Ickes and Ofer, 2005). As suggested by Table 7.1, the transition to a market-based system shifted demand away from heavy industry, defence, infrastructure investment and public consumption towards private consumption, which is governed by consumer instead of the planner's choice and is less polluting (carbon intense).
The OECD suggests that the collapse of the centrally planned system in the early 1990s and liberalisation of the economy was a once-off event which exposed Soviet industry to price signals and competition from overseas. As formerly state-run enterprises struggled to find their place in this new order, many firms were forced to close and others (eventually) emerged to take their place9 . It is argued that this process lead to greater efficiency across the economy and thus lower carbon intensity.The disorganisation thesis runs somewhat counter to OECD's narrative as the correlation between market reform and pollution reduction does not necessarily imply causation. Other important factors which effect both output and pollution are likely to have had an effect such as the erosion of the rule of the law which has been a feature of the post Soviet system as well as the mothballing of industrial capacity.
In this case the decline in pollution (and domestic output) does not reflect an increase in efficiency (and increasing imports) so much as the institutional dysfunction of new economic system.In the context of climate change, this period is important as the Soviet economic collapse and apparent decoupling of subsequent growth in former Soviet Republics from carbon emissions is perhaps the most significant decarbonisation event in history.Since 1999, under the new leadership of Vladimir Putin (initially as Prime Minster, then as President, and now Prime Minister again), the Russian economy began to grow at an annual rate of around 6% to 7%. Over this period, carbon emissions seem to have decoupled from GDP growth. However, the fossil fuel industry has provided much of the economic foundation for this renaissance. In 2009, Russia was the world's largest producer of natural gas (20.
9% of world production), the second largest producer of crude oil (12.3% of world production) and the world's sixth largest producer of coal (IEA 2009).State revenues levied from these industries are providing much of resources to cross-subsidise other areas of Russia's recovering economy. Whether this process is embedding the fossil fuel sector deeper into Russia's institutional matrix of business and politics, or alternatively is part of a managed transition away from an over reliance on extractive industry, is a contested issue.
The risk is that over reliance on the fossil fuel sector exposes economic development (and the political stability rising prosperity buys) to the vagaries of world fossil fuel prices, subject to boom and bust and far removed from the Kremlin's ability to control.Indeed, in Yaroslavl in September 2010, President Medvedev argued,
"Just because energy prices have risen and we have had a burst of growth, people get comfortable, but it may not last. There is no alternative but to change the source of our growth."
Table 7.1: Changes in the industrial structure of employment in Russia: 1990-2001 (%)
Figure 7.1 The decoupling of Russian GDP from carbon emissions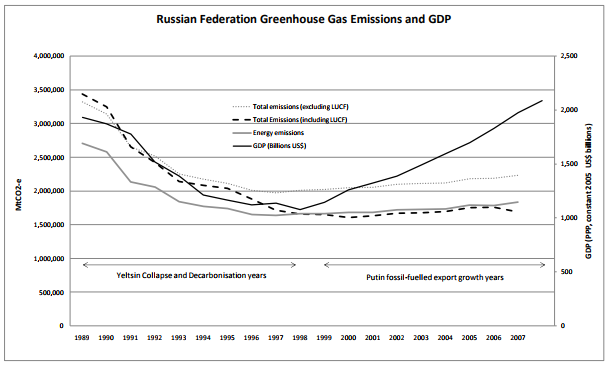 Figure 7.2 The importance of oil and gas exports to Russian economic recovery
Ch 7: Climate Change in Post-Soviet PoliticsPrevious Page – Ch 6: Post-2007 Policy Development