This section introduces a sustainable investing framework for UK and US pension funds. The conception of sustainable investing presented here is based around the notion of RI as designed by UN PRI, modified by an additional emphasis on longterm investing and intergenerational equity. This sustainable investing framework is therefore designed for pension funds take into account ESG issues and practice active ownership, but also to emphasise long-term risk control and value creation, and to ensure that their investment strategy and governance are appropriate to sustainable investing aims. Investment strategy for sustainable investing is addressed first, followed by pension fund governance for sustainable investing.
Conventional pension fund investment strategies and governance practices are outlined simultaneously in order to provide a point of comparison. This section should be read in conjunction with Tables IV-1 to IV-5.
Investment Strategies For Pension Fund Sustainable Investing
Conventional pension fund investment strategies usually fail to bring ESG issues sufficiently into account in making investment decisions and specify investment targets that are relatively short-term. This type of conventional strategy is referred to here as 'Strategy A.' This sort of strategy has significant limitations, as it does not align sufficiently with the long-term investment principles to which pension funds are 140 suited. Furthermore, delegation to asset managers of too much responsibility for exercising their ownership interests and duties, and reliance on short-term performance benchmarks, creates a risk of thoughtless adherence to herd investing.In order for a pension fund to take up a sustainable investing approach, a number of adjustments to investment strategy are required.
First, investment strategies could integrate ESG issues into investment decision-making and analysis. Second, trustees could provide more specific instructions to asset managers with respect to a) ESG integration; and b) engagement with investee companies. Third, performance benchmarks and the associated investment focus for activities could be based on longer term horizons, with more emphasis on absolute returns. This sustainable investing strategy is referred to here as 'Strategy B.'In addition to these measures, some pension funds may wish to make targeted investments in sustainably-themed products, such as clean technology ventures (we will refer to these as 'environmentally targeted investments'). This sort of investment should be distinguished from community investment, where the aim is to create benefits for communities – the focus for pension funds here must remain on creating return for beneficiaries as part of a risk-adjusted portfolio.
Furthermore, any such environmentally targeted investments must be in line with investment beliefs (discussed more below).This area is likely to involve allocations outside quoted equities and bonds in areas like venture capital, private equity, real estate and infrastructure. The typical pension fund employs external managers to cover these areas; the fund's responsibilities hinge on being able to select these managers successfully, draw up appropriate mandates governing their actions and targets and apply effective oversight. This type of extended sustainable investing strategy is referred to here as 'Strategy C.' Environmentally targeted investments are unlikely to be appropriate for all pension funds; as with any investment, an environmentally targeted one must be considered in light of a fund's own risk budget. Table IV-2 summarises these strategies.
Pension Fund Governance for Sustainable Investing
The most detailed analyses of pension fund governance have dealt with how pension funds can best meet their financial obligations to beneficiaries. Very little of this literature deals specifically with governance with respect to sustainable investing or, more generally, in the context of the requirements of a more sustainable economy.What has been written about UK and US pension fund governance with respect to sustainability has been reasonably high-level. As the framework aims to aid pension funds with the practical implementation of a sustainable investing process, the section provides a more detailed outline of governance for sustainable investing. As foreshadowed above, it looks first at mission clarity for sustainable investing, then at investment beliefs for sustainable investing. Finally, this section addresses Clark and Urwin's remaining core pension fund governance factors.
As noted above, mission clarity is one of Clark and Urwin's core best-practice governance factors for pension funds; it is essential that pension funds adopting a sustainable investing approach ensure that they adjust their mission appropriately. An example of a conventional pension fund investment mission (Mission 1) might be to invest trust funds with appropriate risk in order to meet future liabilities to beneficiaries at an appropriate cost. The conventional mission, Mission 1, exists in the vast majority of pension funds. A sustainable investing mission (Mission 2) would focus on continued value creation as in Mission 1, but it would also aim to manage risk more effectively through integrating ESG into investment decision-making (in order to evaluate the value of potential investments more accurately) and through active ownership actions with investee companies over ESG issues where relevant. Furthermore, a sustainable investing mission would include dedication to long-term planning and intergenerational equity.
An extended sustainable investing mission (Mission 3) would allow for a more significant level of commitment to sustainability goals, but this would rarely be appropriate for pension funds because of its extra-financial reach (discussed more below). Investors adopting an extended sustainable investing mission as described here would have the value creation and ESG integration/active ownership/long-term planning aims described in Mission 1 and Mission 2 respectively, and they would also aim to achieve certain extra-financial goals (for example, the creation of a national fund for education, or the production of cleaner energy through investment in renewable energy technology), such goals overlapping with the financial goals. The focus for funds wishing to adopt Mission 3 would remain on the creation of 'value' for beneficiaries, but the 'value' might be more social or environmental than strictly financial. In adopting Mission 3, funds would have to make clear the balance between their financial and extra-financial aims.
It is important to emphasise that Mission 3 is an example of a specialised mission that will rarely be consistent with pension fund fiduciary duty, because it is likely to involve a conscious compromise on a portion of financial return in exchange for an extra-financial reward. Under UK and US law (both statute and case law), fiduciary duty requires trustees to manage trust funds in the best interests of beneficiaries, which generally means in their best financial interests. Only where all beneficiaries of a pension fund agreed to such a mission would it be in keeping with fiduciary duty.An extended sustainable investing mission like Mission 3 is therefore more likely to be an appropriate for a sovereign wealth fund that may have national environmental or social goals to incorporate in its investment mission, or an endowment fund that aims to marry a financial purpose with some wider social agenda. While an extended sustainable investing mission like Mission 3 will rarely be suitable for pension funds, it is nonetheless worth noting for completeness' sake that such mission could exist, and that it would lead to a significantly different investment outcome. A spectrum of investment missions: a conventional mission (Mission 1); a sustainable investing mission (Mission 2); and an extended sustainable investing mission (Mission 3) are canvassed in Table IV?3.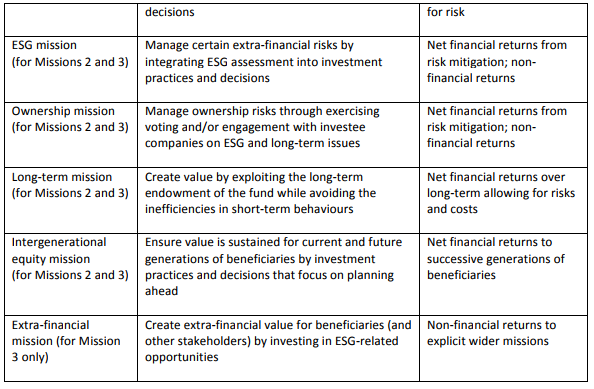 This Chapter has defined investment beliefs as the conjectures and working assumptions about the investment world (including the economy, the financial system, and social, environmental and other risks) that underlie and inform investment practices and decisions. It is argued here, as elsewhere, that strong investment beliefs are vital to best-practice pension fund governance.
In order for pension funds to successfully adapt their governance practices to the requirements of sustainable investing, it is essential that they re-examine their investment beliefs.Why is a re-examination of investment beliefs necessary in order for pension funds to pursue sustainable investing? Articulating investment beliefs aids investors in making sensible decisions about investment strategy. If a pension fund is considering moving from a conventional investment mission to a sustainable investing mission, then the trustees of that fund are likely to have altered their beliefs about the value of sustainable investing. For example, a pension fund that becomes interested in sustainable investing is likely to hold an investment belief that ESG issues influence financial returns and risk over the long-term, and should form part of all investment analysis and decision-making.
If the pension fund in question did not hold this belief, then adopting an investment strategy in which ESG issues are included in investment analysis and decision-making would be inappropriate. In order to ensure that a sustainable investing strategy is appropriate for beneficiaries, trustees of pension funds considering sustainable investing should therefore a) articulate their investment beliefs; and b) assess whether these are compatible with a sustainable investing strategy. Once investment beliefs that support the introduction of a sustainable investing strategy have been acknowledged and articulated, pension fund stakeholders (including beneficiaries and asset managers) are able to see the trustees' justification for a sustainable investing strategy.
Having underlined the importance of ensuring that investment beliefs fit sustainable investing goals, institutional change is rarely easy. In Ambachtsheer's (2007) view, pension funds are too often chained to investment beliefs that are no longer appropriate: 'the beliefs of many funds continue to be based on historical rules of thumb' that are ill suited to the current environment. The acknowledgement of new investment beliefs is no different from other types of institutional change in this respect, as it means accepting that one's underlying assumptions about the workings of the investment world have changed.
Nonetheless, the acknowledgement and expression of appropriate beliefs is a necessary precursor to the successful implementation of sustainable investing practices. Examples of investment beliefs that might support a sustainable investing strategy are set out in Table IV-5. TableIV?5: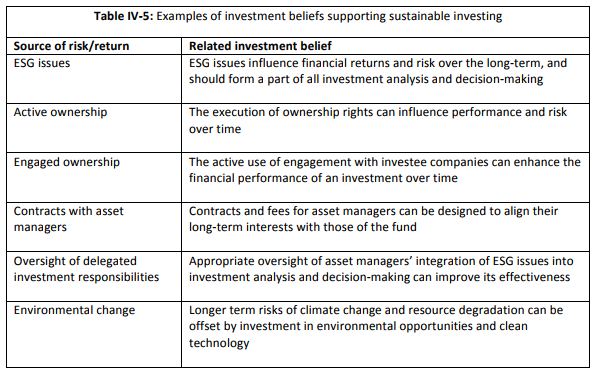 Finally, there are four best-practice governance practices in addition to mission clarity and strong investment beliefs (see Table IV-1, on page 133) that may be adapted in order for pension funds to pursue a strategy of sustainable investing successfully. First, effective focusing of time: trustees should map out the resources needed to implement a sustainable investing strategy, including parts of the implementation process that will be delegated to asset managers.
Second, leadership: trustees should provide strong leadership to mediate varying opinion about the value of a sustainable investing strategy.Where applicable, the pension fund's Investment Committee Chairman should play the main leadership role. After the sustainable investing strategy has been introduced, the Chairman should continue to mould consensus. Third, risk budget framework: trustees should attempt, as far a possible, to place quantifiable risk parameters on risk related to ESG issues.
Fourth, fit-forpurpose manager line-up: it is essential that asset managers have appropriate capability for implementing a sustainable investing strategy, including understanding how to integrate ESG issues into investment analysis and decision-making, and how to lengthen the investing time horizon where relevant.This Chapter has argued that in order for pension funds to implement sustainable investing effectively, they should make certain adjustments to their investment strategies, including the integration of ESG issues into investment analysis and decision-making and engagement with companies where necessary, and the emphasis of longer term investment time horizons. In addition, pension funds implementing sustainable investing should ensure that their governance practices align with their sustainable investing strategy.
Building upon Clark and Urwin's 2008 study of best-practice pension fund governance, this chapter has argued that pension funds implementing sustainable investing should articulate both a clear sustainable investing investment mission and strong investment beliefs with respect to the soundness of sustainable investing as an investment approach. Finally, it is noted that bestpractice pension fund governance indicates that effective focusing of time, leadership, risk budget framework and appropriate management should all be adjusted to meet the needs of sustainable investing.Next Page – Uk and Us Pension Fund GovernancePrevious Page – Legal Context